Heidi Larsen (farm manager), Ejner Boersting (breeding manger and geneticist) and Kristen Sorensen (trainee manager and geneticist) of ScanBrid Int. A.S.
ScanBrid International A/S was set up in Denmark by the Turkish company KOY-TUR Holding A.S. and the Norwegian Poultry Breeders Association through its international company NorPoultry when the ASA breeding company stopped activities in 1990. ScanBrid began as a separate company on June 1st 1991. A breeding station was set up on the island of Strynǿ using the facilities that had been used for many years by the National Committee for Poultry and Eggs. Production was planned and started in the area of Billund, the location previously the headquarters of ASA. Scanbrid had set up headquarters there and had bought land for a hatchery. KOY-TUR had seen a Danish company using ASA stock in Turkey and when they found out ASA was for sale they tried to buy the whole company. Having failed to reach an agreement with KOY-TUR the National Committee for Poultry and Eggs purchased the ASA breeding lines and located them on Strynǿ. Then the breeding station on the island and the ASA lines were sold to ScanBrid.
The breeding operation at Billund experienced financial problems in 1994. Although there was a moratorium on payments the outcome was that the operation ceased in 1995. The breeding activities on Strynǿ continued and step by step the GGP and GP operation was built up in Turkey.
In the first year breeding was carried out by the staff of Dr Paul Sorensen at the Danish Institute of Agricultural Sciences Department of Animal Breeding and Genetics. Ejner Boersting who was a geneticist working for ASA in the early 80's came back to poultry and took over management of the breeding program. A new breeding package, SB CX20, was developed from the former ASA Chick pure lines that were used to produce the ASA 314 commercial cross. This was a three way cross with a pure line sire and a crossbred dam. In 1999 the broiler was called the Scanbro 2000.
KOY-TUR is an integrated poultry operation in Turkey producing about 20% of the poultry meat amounting to 65 million a year. When the GGP farm was established hatching eggs were sent from Denmark on a regular basis and GP production started in June 1997. Mr Altan Unver was Chairman of the ScanBrid Board.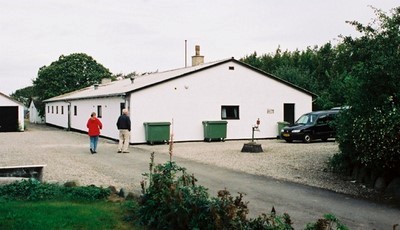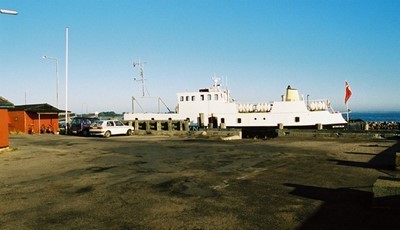 The ferry servicing the island for all visitors and farming supplies in and produce out.